Adoption Support Center
A licensed child placement agency in Indiana
In our 35 years in business, ASC has seen a lot of changes in the adoption world — and we've even been the driving force behind some of them! Modern adoptions have become more ethical, more focused on what's best for the adopted child, and more supportive of expectant and birth moms.

When you choose ASC, you'll know what it's like to work with a modern, ethical adoption agency. You'll get transparency, honesty and someone to return your calls, texts and emails ASAP. "Support" isn't just in our name — it's our promise to you!

Whether you need education, counseling or just a friendly conversation, we have a heart for you and your story. We're excited to be part of your adoption journey!

Stay up to date with all things adoption. Our blog tackles topics for all members of the adoption triad, so you can stay informed and empowered.
Read the ASC blog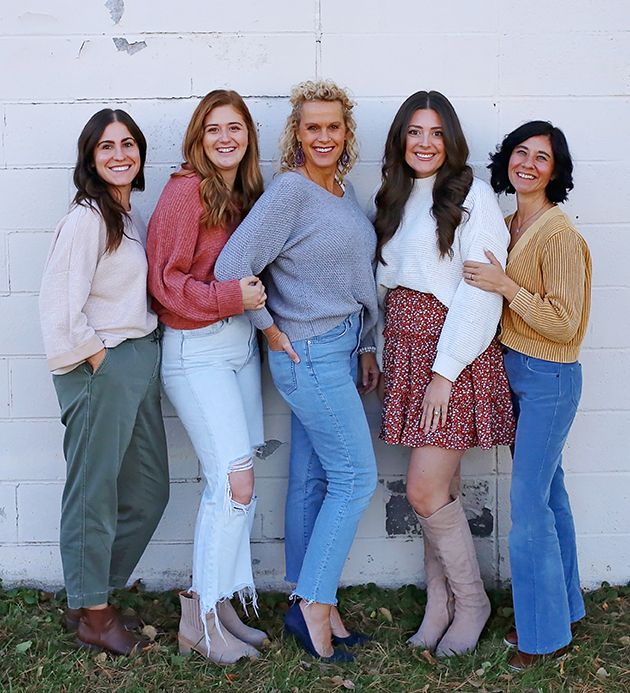 Expectant moms
will have control in the adoption process.
Birth moms
will have lifelong support after placement.
Adoptive families
will have support to become successful adoptive parents.
Adopted people
will have community and support for reunion.
Amanda Hammond
Executive Director
Meet Amanda! Well, you've probably already met her, because she's been at ASC for more than 20 years — and she's been a leader in educating the community on adoption for even longer! She continually strives to make the adoption world better for adoptive families, expectant and birth moms, and most importantly, adoptees.
READ MORE
Amanda is probably best known for her uncanny ability to support expectant and birth moms with genuine love, compassion and empathy. She meets them where they are. She wants to learn their story. She continues to show up for them long after placement.

In the last few years Amanda has transitioned into day-to-day operations and community education, but her leadership in working with expectant and birth moms lives on today. She has mentored the next generation of social workers to put the same amount of heart and soul into their work as she's done for decades.

If you're lucky enough to know Amanda, you know that she exudes joy and passion. Shoot, she's just FUN! She puts 100% of her energy toward her passions — and sure, that means she can't always find her keys, wallet or phone. And maybe she's missed her daughter's bus for pick-up more times than she'd like to admit this year. But that just goes to show that when you're with Amanda, she's fully present with you. Man, we love this lady!
READ LESS
Kathryn Marsh
Senior Adoption Assistant
If you don't know Kathryn by name, you probably know her by voice! She's much more than the friendly voice who answers the phone at ASC 24 hours a day. She's been with ASC for more than 12 years, and this place wouldn't run without her.
READ MORE
Kathryn walks alongside expectant moms and prospective adoptive families as they start their adoption journey, and continues to support them well beyond placement. She does the creative work for our social media pages and website, and answers roughly a million questions every day. And somehow she still manages to keep a pot of coffee brewing for us every morning. WILD, right??

As if that weren't enough on Kathryn's plate, she's also an amazing mom of 5 and an active member of the Indianapolis community. She's a photographer and volunteer member of the Children's Museum Guild, helping put the Haunted House together each year.

One of the most beautiful things about Kathryn is the way she grieves. Kathryn lost her daughter, Cora, after 6 days here on Earth. And since then, Kathryn has inspired us all with the way she remembers and celebrates Cora. Grief is woven into everything we do here at ASC, and if you ever need a hand in walking with that grief, Kathryn is just a phone call away. We're so lucky to call her our co-worker, teammate and friend.
READ LESS
Presley Gruwell
Adoption Assistant
Meet our super sweet, a little bit sassy, always amazing Presley! We didn't even realize how much we needed her until after she joined ASC a few years ago. She tackled Medicaid for our babies, manages our data, navigates background checks, heads our financial team, answers endless emails and phone calls… we're getting overwhelmed just thinking about it!
READ MORE
Presley is a ray of sunshine at the office, and her super talent is being a super sleuth detective. Seriously, this gal can find ANYTHING on the internet. Any question you've got, she's got an answer before you even ask. She may have missed her calling as a private eye, but don't tell her that because we're not letting her go anywhere!

Presley is the mama of sweet Emerson and Blakely. She buys more hair bows for her girls than her husband would probably like, but luckily she can have them delivered to the office so he doesn't know quite how many there are. We're not sure how we got so lucky to have this wonderful lady on our team, but we hope she knows how much we appreciate her!
READ LESS
Allison Musselman
Adoption Grief Therapist, MSW
Meet one of the most empathetic people we've ever met: Allison! This amazing lady just exudes kindness. She's grounded and steady, and she listens long and carefully before she gives you a response. In short, she's got social work in her blood.
READ MORE
Beyond her educational background and the makings of a great social worker, Allison has also nannied for three sweet kiddos since they were wee babies. We knew that if she could take care of three toddlers at the same time, she could handle the juggling, flexibility, humor and love this job requires!

As a grief therapist for our expectant and birth moms, Allison understands the grieving process on a personal level. She unexpectedly lost her mom a few years ago, and she has a special ability to connect and sit with others who are also grieving. It's that personal connection that makes Allison the right woman for the job. We're excited to know her, and for you to meet her!
READ LESS
Hope Rojas
Adoption Specialist, BSW
Meet Hope—one of our new employees!! She is our adoption coordinator. She travels the state of Indiana meeting with expectant moms as they consider adoption. She listens, supports, educates, and empathizes as women explore this option. And most importantly, she stands behind them whether they choose adoption or not.
READ MORE
Hope got her bachelor's degree in Social Work and Child Advocacy in 2021 (yay for new grads!). She has spent time working in residential treatment for teenage girls and has gathered a lot of experience with trauma, mental health, and even adoption stories. Hope is goofy, excitable and loves to engage in the welcoming environment at ASC. Hope spent a lot of time in the summers as a child and young adult in Guatemala on missions trips (She's visited a total of 12 times!). She even met her fiancé on one of these trips! These trips helped lead her to choosing social work and eventually to us, here at Adoption Support Center!
READ LESS
Becca Gruwell
Adoption Social Worker
Meet Becca—one of ASC's newest employees! Becca is an adoption social worker, primarily working with prospective adoptive parents in the area of home studies. Conducting a home study is one of the last steps to complete before a couple is able to go active. Becca is educated on modern and ethical adoption, and strives to create a non-invasive and open dialogue between herself and the couples she meets.
READ MORE
Becca received her bachelor's degree in Social Work with a Spanish minor in 2017. She has experience in case management and supervised visitations. Becca is working remotely for ASC, and has actually lived abroad in Guatemala since 2018. She even met her now husband, Juan, there and is completely fluent in Spanish. In Guatemala, Becca serves with a non-profit organization that provides children nutritious daily lunches, educational/homework assistance, as well as, medical attention.

Becca is laid-back, empathetic, and wants to hear your story. Most of all, she's excited to help ensure that our ASC adoptive couples are ready to take the next step in their adoption journey.
READ LESS
Visit ASC
Our office in Carmel, IN is a safe and welcoming place where you can meet our helpful staff, find resources before and after placement, and attend informational classes. If you need our support, we're just a text or call away.